Permanent Exhibitions
The Age of Greater Osaka


Modern Girl:
"I am a modern girl who is in the height of fashion from the Early Showa Period of Osaka."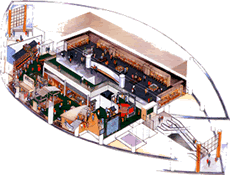 The trip through time that began with the 10th floor ends here on the 7th floor.
Now we will encounter a more familiar Osaka on the eve of what we know now.
The crowded, bustling atmosphere of the street corners of Shinsaibashi and Dotombori in the Late Taisho and Early Showa Periods arerealistically reproduced here.
It is a walk through the prosperous modern Osaka with the images of those days.